Blog
WARNING – NEW SCAM GOING AROUND
---
June 23, 2022




Public Service Announcement.
---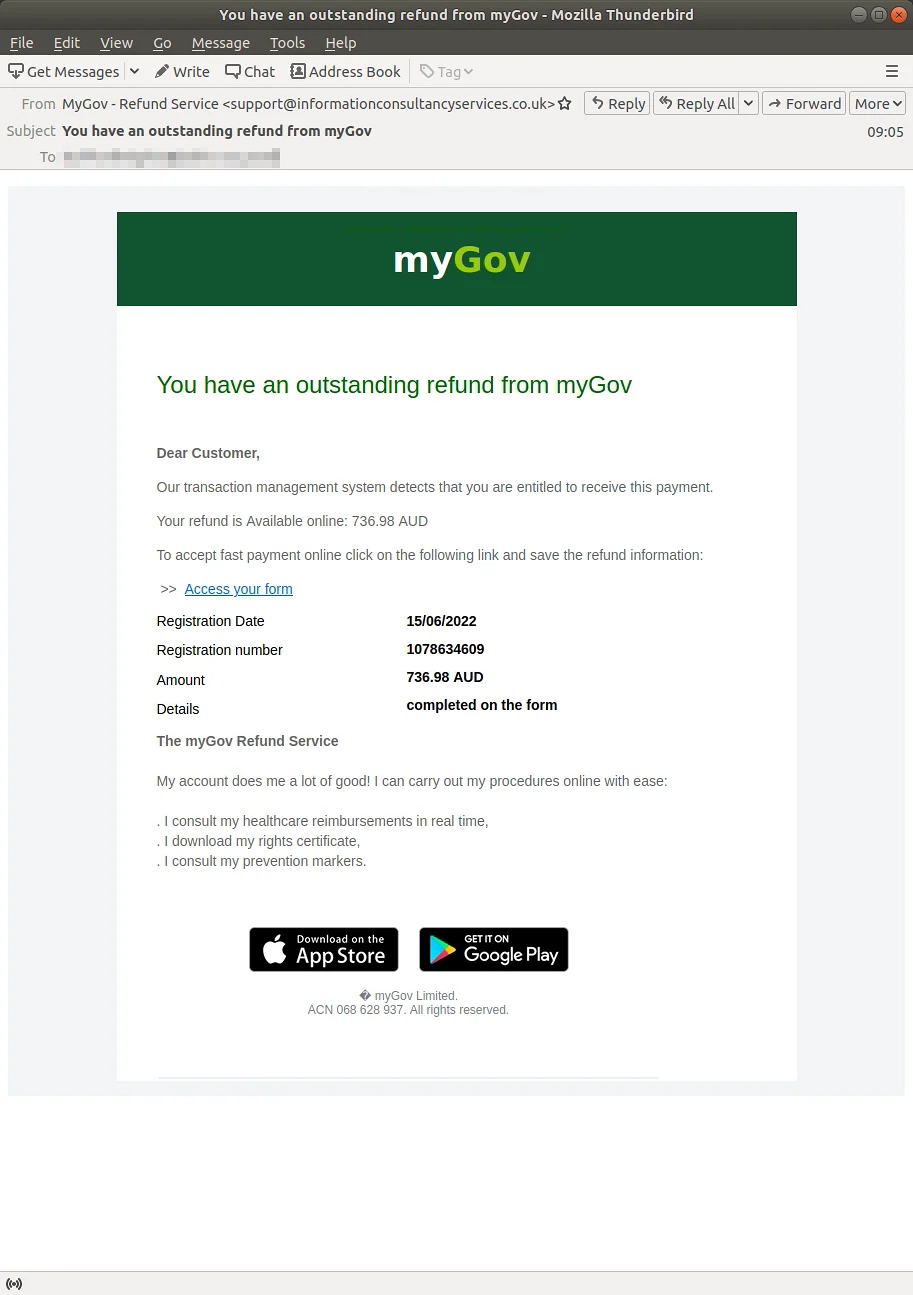 ---
The end of financial year is upon us and Aussies are being warned to be on the lookout for an email claiming to be from myGov saying they have an outstanding tax refund.
The phishing scam, intercepted by MailGuard, impersonates myGov and seeks to steal unsuspecting Aussies' accounts and credit card credentials.
MailGuard has warned Aussies to be on the lookout for an email with the subject line: "You have an outstanding refund from myGov."
The sender name shows "myGov – Refund Service"; however, even the display address has been edited, and the sending address is a jumble of letters and numbers with a domain that has been linked to other scams.
"The email itself has been craftily designed to appear as one you could expect to receive from myGov," MailGuard said.
"Although there are a few minor grammatical errors, it's convincing enough to potentially fool many unsuspecting individuals."
The body of the email alerts the recipient that they have an outstanding refund of $736.98 and, in order to "accept fast payment online", they're instructed to click a link.
After clicking the link, the user is taken to the first phishing site, which is almost an exact replica of the myGov login page, the only immediately obvious difference being the URL.
The user is directed to enter the email and password they use for their myGov account to sign in, although these details will be harvested by the attacker, MailGuard warned.
Next, the user is taken directly to a page where they're instructed to update their information in order to receive their refund.
The authentic myGov login page uses multi-factor authentication (MFA) when you sign in, meaning, on top of your password, you'll have to answer a secret question or enter a code that's received on your mobile.
This step is skipped by the scammers, although this could easily be overlooked by someone who is eager to receive their refund.