Blog
NEWLY DISCOVERED CROCODILE SPECIES ATE A YOUNG DINOSAUR FOR ITS LAST MEAL
---
March 21, 2022




News,Public Service Announcement.
---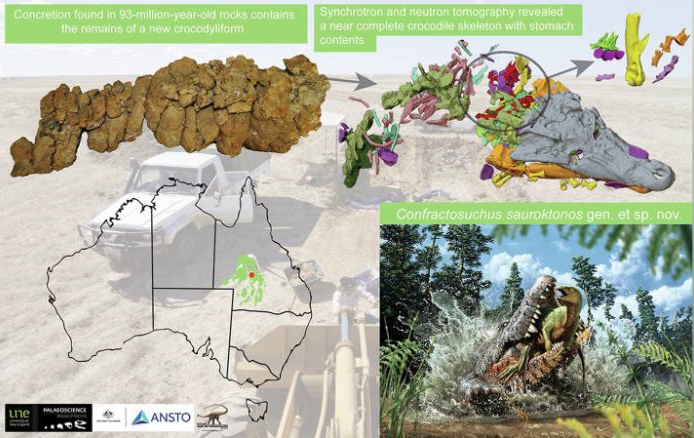 ---
A new species of crocodile dating back to the Cretaceous period has been discovered in Queensland, Australia, and its last meal was a young dinosaur, scientists say.
The
fossilized bones
of a confractosuchus sauroktonos were excavated in 2010 from a sheep station near the Winton Formation, a geological rock bed that is about 95 million years old.
Inside the stomach of the 2.5 meter-long crocodile, scientists identified the partly digested remnants of a young ornithopod, according to a paper naming the new species published in the scientific journal Gondwana Research on February 11.
This is the first evidence of a crocodile preying on a dinosaur in Australia, the Australian Age of Dinosaurs Museum, which made the discovery, said in a statement.
Such a discovery is "extremely rare, as only a handful of examples of dinosaur predation are known globally," the press statement said.
"While Confractosuchus would not have specialised in eating dinosaurs, it would not have overlooked an easy meal, such as the young ornithopod remains found in its stomach," Dr Matt White, an associate at the museum who led the research, said in the press statement.
"It is likely dinosaurs constituted an important resource in the Cretaceous ecological food web.
The confractosuchus sauroktonos is the second crocodile that has been named from the Winton Formation. The rock bed has exposed numerous scientific discoveries in recent years, including a 96-million-year-old 
pterosaur
 in October 2019.
Thanks to CNN news