Blog
Get the best out of your sales campaign – hints and tips.
---
April 20, 2017




Support
---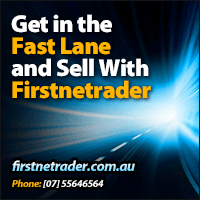 ---
Congratulations on selecting www.firstnetrader.com.au to help you find that all important buyer.
Your "Full Time Professional Management and Marketing Team" is constantly working for you! Employing practiced on-line marketing tactics, including Social media to maintain and increase the readership of www.firstnetrader.com.au
Your Ad is available to our growing readership for at least 4 months unless SOLD. Unlike traditional media, you can change, amend, update or even replace your Ad AT ANY TIME, AT NO EXTRA COST during your term.
First Net Trader Pty Ltd is available to you at all times during Office Hours through our Helpdesk   on [07] 55646564. Monday to Thursday 9.00 a.m. to 4.00 p.m./ Friday   9.00 a.m. to 1.00 p.m.
Within our guidelines, we will administer your campaign and we recommend you actively "manage your campaign" and with the view to achieving a satisfactory sale, we offer the following advices.
Utilise all available content [Text] allowance. A Text40 advertisement allows for 40 words of text. It does not include your Header [Title] or Footer [Contact details] which is FREE.
REMEMBER, a picture is worth 1,000 Words. Provide as many contact options as possible. E.g. phone, mobile, email, etc. So your prospective     buyers can reach you NOW! Remember to like and share your ad on social media if you have it or ask family and friends.
Ads should be as accurate as possible remember to include your LOCATION. Let Buyers know about the amenities and facilities available in your area. If the property is commercial indicate what types of commerce and facilities already exist in the area including traffic. Rural properties should also       indicate all water facilities available including dams, road conditions, and access to main roads, power, phone & facilities available and, dependant on the usage, flora and fauna.
If you are selling a business, retailers should indicate foot traffic in the area, draw cards like Shopping Centres, parks, office buildings, town centre, regular clientele etc. service industries could indicate what other services are in the area to draw daily new prospective clients, plans for the area which may improve business, prospects for improvement and all business should, where possible, provide or make available tax/accountants figures. Websites and online order facilities should be indicated to give your buyer a better overview of the business.
Vehicles, boats & machinery should give as much detail as possible including present condition, past usage, log books where   possible, pickup location or availability for delivery locally or interstate.
Important Update: If you receive an email or text that you are unsure of from a third party in       response to your ad, or asks for payment through Western Union or PayPal of an item that has not been viewed, please do not act.  Contact us first to ensure it is not a scam, your helpdesk is 0755646564 or alternatively visit the website of Scamwatch.com.au
Need to talk to someone? Advice? Help to re write your listing? Go to the homepage                               http://www.firstnetrader.com.au and CLICK on Live Chat. You'll be connected to our help desk   immediately. And better still….IT'S FREE. Or via email: sales@firstnetrader.com.au
Get daily feeds from Facebook find us at Facebook.com/firstnetrader, and Twitter #FirstNeTrader.